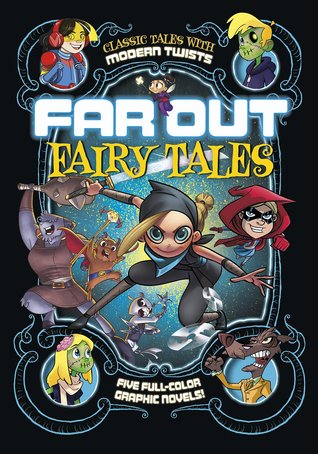 Far Out Fairy Tales
by
Joey Comeau

,

Louise Simonson

,

Sean Tulien

,

Otis Frampton

,

Omar Lozano

,

Jimena Sanchez S

,

Fernando Cano
April 1st 2016 by Stone Arch Books
Length: 176 pages
What do you get when classic fairy tales are twisted about, turned inside out, and reworked for the graphic novel format? Far Out Fairy Tales! Discover what Snow White would be like if she were raised by robots. Find out how Cinderella's story plays out when she walks the path of the ninja. Play along when three billy goats named Gruff get stuck inside a video game. Chase down the Big Bad Wolf with the help of a superpowered Red Riding Hood! Each fairy tale revision holds true to the spirit of the original while adding a modern twist to the classictales we know and love. Experience fairy tales like never before in this innovative series of full-color comic books for kids!"
As you can probably guess if you are familiar with previous read and reviewed titles, I can never get tired of fairytale retellings, that's for sure. Be them dark and gruesome or on the contrary, cute and funny, I'll think twice before refusing the chance to read them.
Far Out Fairytales is a collection of classic tales with modern twists in a graphic novel format, illustrated by various authors. While I can't say I absolutely loved all five of them, I definitely enjoyed seeing the twists, some being clever, others just silly.
It was also a great idea to include a list of every major plot point that was changed from the original story, although the main ones can be very well guessed from the cover:
Cinderella is a ninja
Hansel and Gretel could be proud cast members of the Walking Dead
Red Riding Hood is nothing other than a superhero.
These three were the stories I most enjoyed, while the others didn't quite manage to grab my attention.
But this title is aimed towards children and I can guarantee they will be entertained, especially if they already are familiar with the classics. We all know kids these days get bored very quickly so it's always nice to offer them a new and exciting thing.