Toţi vrem să găsim sub pomul de Crăciun şi nişte cărţi. Dar nu tot timpul se întâmplă asta. Sau nu primim cât de multe ne-am dori. Aşa că m-am gândit să adun pentru voi câteva ebookuri gratuite în această perioadă, cu tematică de iarnă. Crăciun fericit!
eu asta am primit de la Moşul meu tinerel aka Răzvan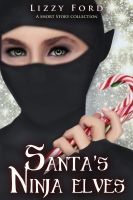 Santa's Ninja Elves de Lizzy Ford
Santa's Ninja Elves: two short stories depicting elite elves whose missions are to protect Santa against all enemies using an assortment of cinna-bombs, candy cane bullets, tinsel traps and throwing bells and intelligence from the fortune-telling Mrs. Clause. After years of dedicated service, Santa decides to reward them by helping them find love on Christmas. Past retirement, Natasha is sent from the North Pole to Ohio on a final mission to identify a threat to Santa. Natasha runs the lead to ground, only to find Santa sent her there for an entirely different mission. She's been set up with a handsome stranger, a final gift from Santa to his favorite Ninja Elf. Hunter gets drunk on eggnog one day and beheads an innocent snowman. His punishment: he's banished from the North Pole to work at a mall in Arizona, managing a fake Santa's long line of kids. When the fake Santa sheds the fat suit to reveal a beautiful woman, Hunter falls fast for the woman who makes him feel the thrill Christmas Eve with one look.
Dec the Holls de Jasinda Wilder
A week before Christmas, and all through office not a soul is stirring, not even a mouse. Holly is working overtime, cold and lonely and broke. Across the hall, Declan is lonely too, and thinking this Christmas is going to be a joke. Then one blustery night Holly's car won't start and Declan is there to help with a little love in his heart. Open this gift from bestselling author Jasinda Wilder to find out if a single mother of two can let herself fall in love with her sexy-as-hell workaholic boss.
A Christmas Carol de Charles Dickens
One of the best-loved and most quoted stories of "the man who invented Christmas"—English writer Charles Dickens—A Christmas Carol debuted in 1843 and has touched millions of hearts since. Cruel miser Ebeneezer Scrooge has never met a shilling he doesn't like...and hardly a man he does. And he hates Christmas most of all. When Scrooge is visited by his old partner, Jacob Marley, and the ghosts of Christmas Past, Christmas Present, and Christmas Yet to Come, he learns eternal lessons of charity, kindness, and goodwill. Experience a true Victorian Christmas!
The Christmas Angel de Abbie Farwell Brown
Introduction and Afterword by Joe Wheeler What would people do if they found her childhood toys lying in the street? Act selfishly? Miss Terry tossed each toy one by one to the snowy sidewalk in front of her house. But her heart is moved when she sees the Christmas Angel kicked aside. Remembering all the years it graced her family mantel, she rushes to rescue it. Back inside, the Christmas Angel comes to life, and reveals the actual destiny for each toy, and for Miss Terry, that she could have never imagined. "The Christmas Angel," part of the Focus on the Family Great Stories collection, includes an in-depth introduction and discussion questions by Joe Wheeler. It is a stirring reminder of what really matters at Christmas and throughout the year.


All I Want for Christmas is You (Fate with a Helping Hand #1) de Lisa Mondello
Sometimes fate needs a little hand… Santa Claus is going to have a rough season... Lauren Alexander is raising her daughter alone. Abandoned by her family for her decision to keep her daughter Kristen, she has done a pretty good job for the last six years. Or she thought she had. That's why she is crushed when little Kristen gives up her wish for a toy or goodie and instead asks Santa for a present for her mother. She wants Santa to bring a Daddy. Delivering Daddies isn't Santa's bag. But this Santa has a plan... Kyle Preston knows what it is like to be abandoned too. Luckily he found the support of loving adoptive parents and has turned himself into one of the most successful Real Estate developers in town. Building a house is easy. Building someone's trust is a whole other story. But with a little helping hand, a little Christmas magic can make all the difference in the world.
Alte ebookuri gratuite care v-ar putea plăcea (click pe copertă pentru a le descărca):