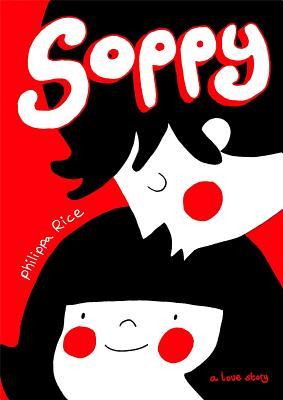 Soppy: A Love Story
by Philippa Rice
108 pages
Expected publication: December 2nd 2014 by Andrews McMeel Publishing
The next hot ticket could be British artist Philippa Rice, whose marvelously inventive blogs My Cardboard Life and Soppy have won her fans across the world." --Anna Baddeley, The Observer The wildly popular web comic SOPPY--with more than half a million notes on Tumblr--is the illustrated love story of author Philippa Rice and her real-life boyfriend. True love isn't always about the big romantic gestures. Sometimes it's about sympathizing with someone whose tea has gone cold or reading together and sharing a quilt. When two people move in together, it soon becomes apparent that the little things mean an awful lot. The throwaway moments in life become meaningful when you spend them in the company of someone you love. SOPPY is Philippa Rice's collection of comics and illustrations based on real-life moments with her boyfriend. From grocery shopping to silly arguments and snuggling in front of the television, SOPPY captures the universal experience of sharing a life together, and celebrates the beauty of finding romance all around us.
This was a cute story about love told in simple images that show those little moments in life that matter, whether it's reading a book together, going out or simply the things you say to each other.
So for the sake of following this book's pattern, I will keep my review short. I really loved this graphic novel, it made me remember all sorts of moments I've personally had with my boyfriend and how some joke we shared is sometimes more important than going out to see a movie for instance.
I think this helps you realise what is really important in a relationship - embracing your significant other as they are, with no desire to change them in any way, appreciating even those little fights or mean remarks that sometimes you can't help but say when you are tired or stressed out.
Maybe it's not the most complex book out there and maybe it's not the best drawing you've seen, but it's definitely worth checking out.
Want to support my work as a reviewer?
Give this review a like on Goodreads.